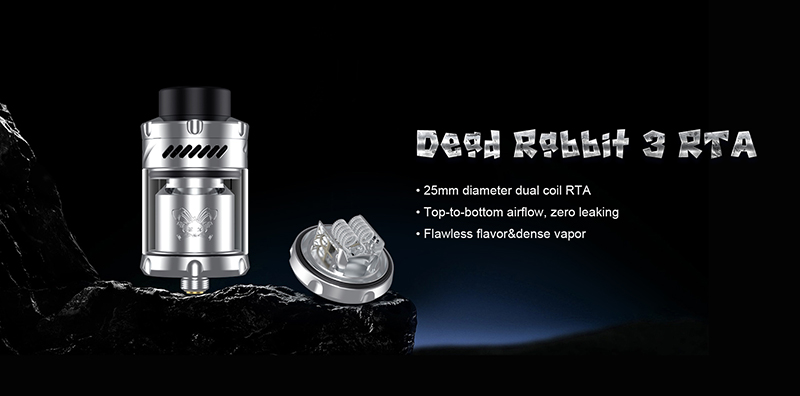 Appearance

As you can see, we inherited the classic logo of Dead Rabbit for the third version, and took the top airflow system to avoid leaking as well. For the appearance, Dead Rabbit 3 RTA looks simpler and cleaner, and the size of the bottom for those 3 products is the same, but Dead Rabbit 3 RTA looks a little bit bigger because its inner diameter is 25mm while outer is 27mm, the height still same 50.5mm.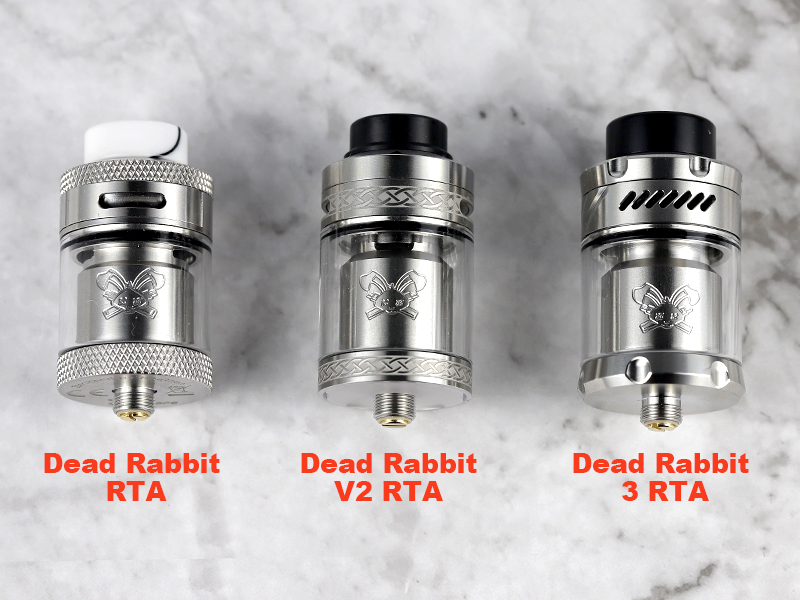 E-liquid Capacity

By a little bit bigger size because of the outer is 27mm, Dead Rabbit 3 RTA can have more e-juice capacity, 3.5mL with straight glass and 5.5mL with bubble glass. As we known, Dead Rabbit V1 and V2 RTA only has 2mL with straight glass, 4.5mL and 5mL with bubble glass. And for the refilling way, V1 RTA has a rotating style refilling system, and V2 RTA has a pushing style refilling system, now Dead Rabbit 3 RTA has a "Quarter trun" style refilling system, it's more conveniently and quickly to open the top cap and fill the e-liquid.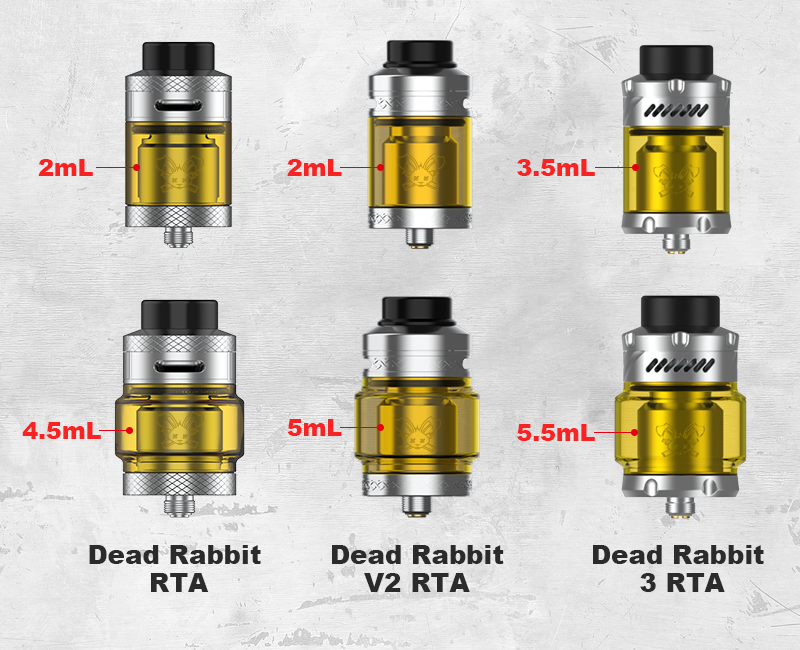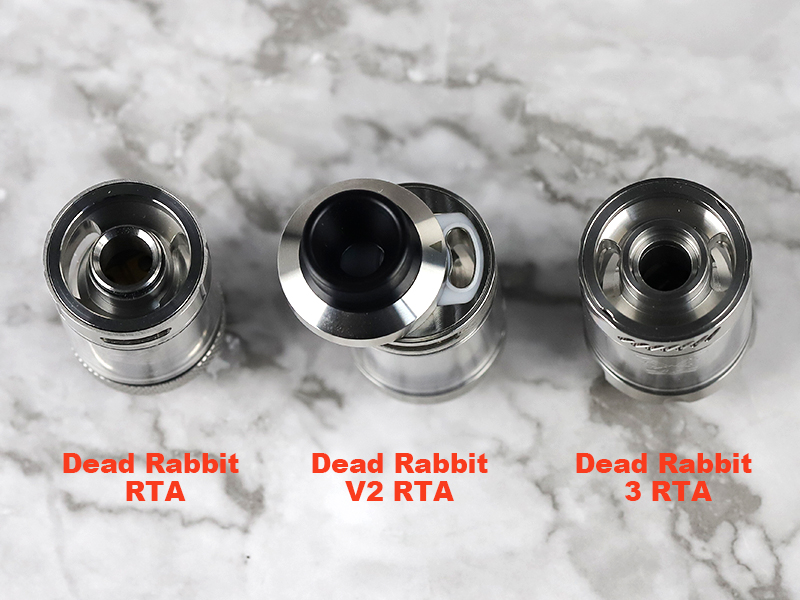 Deck

In the image below you can basically see the progress between the V1 and V2 deck, which consists of a better arrangement of V2 deck that are inclined at 45°to simplify the cutting coil legs, but In the third version RTA, we adopted postless deck system to let you install the coils much more easily nd quickly, and on the base and side of deck, we place honeycomb airflow structure, it's totally different from the V1 and V1 version, but they are same for the dual coil building.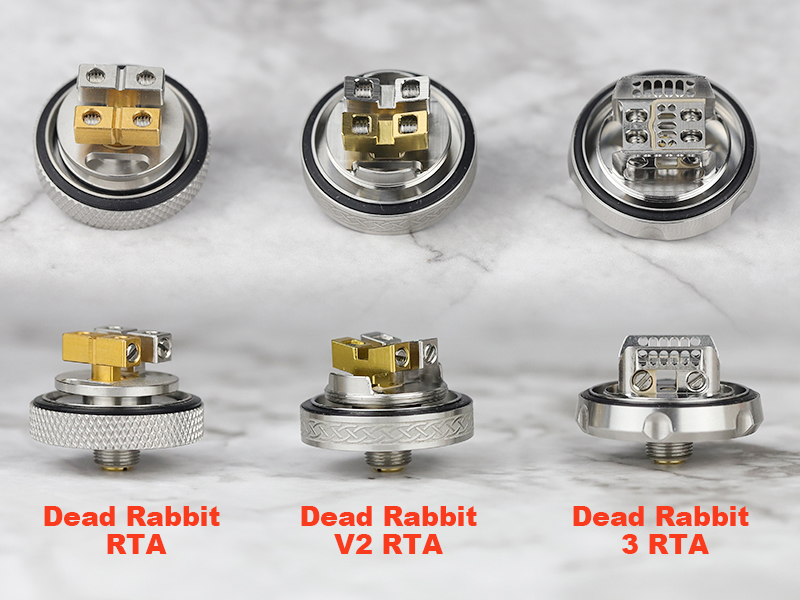 Airflow

About the airflow, Dead Rabbit 3 RTA uses Top to Bottom airflow system as well, no need to worries about leaking too, but the inner structure of them is totally different, here you can see how the airflow in Dead Rabbit 3 RTA goes up towards to the coils and is amplified by the 4 honeycomb air holes and 3 slotted air holes from the bottom and side of the deck, so the airflow goes through the bottom and side of the coil under the honeycomb and slotted airflow structure, it provides a full atomization effect, the distribution of the airflow around the coils is maximized and for this reason they are reached the best performance in terms of flavor, in the meantime it also brings smooth draw and dense vapor.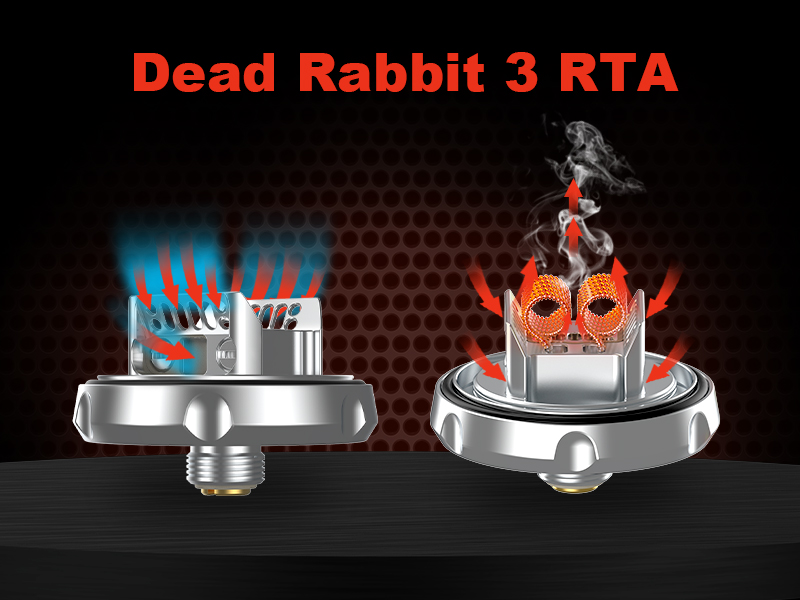 Colors

For the color, Dead Rabbit 3 RTA is available in 8 colour: matte black,ss, gunmetal, rainbow, matte full black, blue, gold, purple.